These photographs were taken in the late fall or early winter of last year. Part of my journey back to why I wanted to be an artist to begin with was to reconnect with what I wanted to capture in my work; honesty & vulnerability & to do that, I had to explore it in myself first. 
Immediately this project was a challenge because I was in control of the shutter & my own presentation of myself. I decided that I would wait until I was feeling a little down & struggling with my anxiety & put myself into vulnerable positions that felt uncomfortable to photograph. I also choose not to hide my emotional state as best I could. 
I wanted the photographs to capture parts of my body I was not comfortable with. I wanted things to just be out of focus in some places while still conveying my emotional state.
When I developed these photos & scanned them I fucking cried. I hated them, I thought they were ugly & I began to think I was a terrible photographer, that couldn't even capture my own honesty & vulnerability properly; how was I going to do it with others? I felt that where I wanted to take chances & bend rules failed. I thought to myself, 'you can't do that right.' The framing doesn't mean anything & the point would be lost in something flat & void - silly. I felt the stuff I am grappling with was vacant from these photographs & my honesty & vulnerability has no value. I saw the vulnerability as ugly & that position blocked me from see the true value in these photos. 
But I quickly accepted this state as a good thing for me & my work. These quickly became my rock-bottom. I shared them as very quick develops with Janet, who was visibly moved by them but struggled to accept them because of her feelings towards them. I saw the power they had but it was too much so I put them away agreeing not to look at them until the right time, which was in these moments with the lead up to The Ron & Michael Session. 
I quickly noticed a pattern with Janet's portraits, mine & finally the Ron & Michael Session, we all personally rejected our own portraits in one-form-or-another while adding appreciation about them in one from or another. Everyone else stated how impressive & emotional they all are. Even people who are unsettled by the emotions are visibly moved & that is amazing to see as an artist. It is good to see people sometimes being forced to confront others emotions in a true way. We often turn a blind eye to others emotional distress & our own. I began to see honesty & vulnerability has something profound & beautiful & worth sharing. 
Cam Martel is visibly moved by Janet's portraits, but will state they don't work for him. He just sees sadness & can't see the beauty of vulnerability, which is the more profound emotion that is causing distress - not the sadness, that is just one tiny part of the big picture. 
 I measure the value of what is successful art differently. He was moved. My work is about emotions. It was a success. I do not require a happy emotion. I was excited about Cam's emotional display. I am learning to stop placing negative values on certain emotions. We are all human & we all deserve to feel all that we are given. Those emotions are there for a reason so let's celebrate all of them just the same. I have said before, I can accept that someone may hate a portrait just the same as love one. Both love & hare are potent & powerful emotion, I will accept both. Indifference would be hard for me to accept. 
You & several others expressed how beautiful Janet's portraits were & that is a nice bit of added appreciation for my work. 
I was moved by my own portraits & so was Janet. Looking at them now, I can say, I think they are beautiful. I am excited to share these publically, I am just working on the words. I have to consider some people in my past who may see theses as a bit of an outing becuase how the abuse I've endured. I am close to a final positioning that will respect privacy & keep my past out. 
If you read the approach to my work on my portfolio, you will note that time is a factor in some of my work. I let time influence creative decisions & my appreciation for what I have photographed. Theses are not no exceptions. I needed time & now they are 99% ready. 
My goal was always to show these to you & anyone who agrees to my process. I won't show them before, because that would run the risk of inadvertently influencing the subject. As you know by now I can still shoot past that layer, but less layers makes the session that much more intimate. 
I hope you both appreciate & find beauty in this work.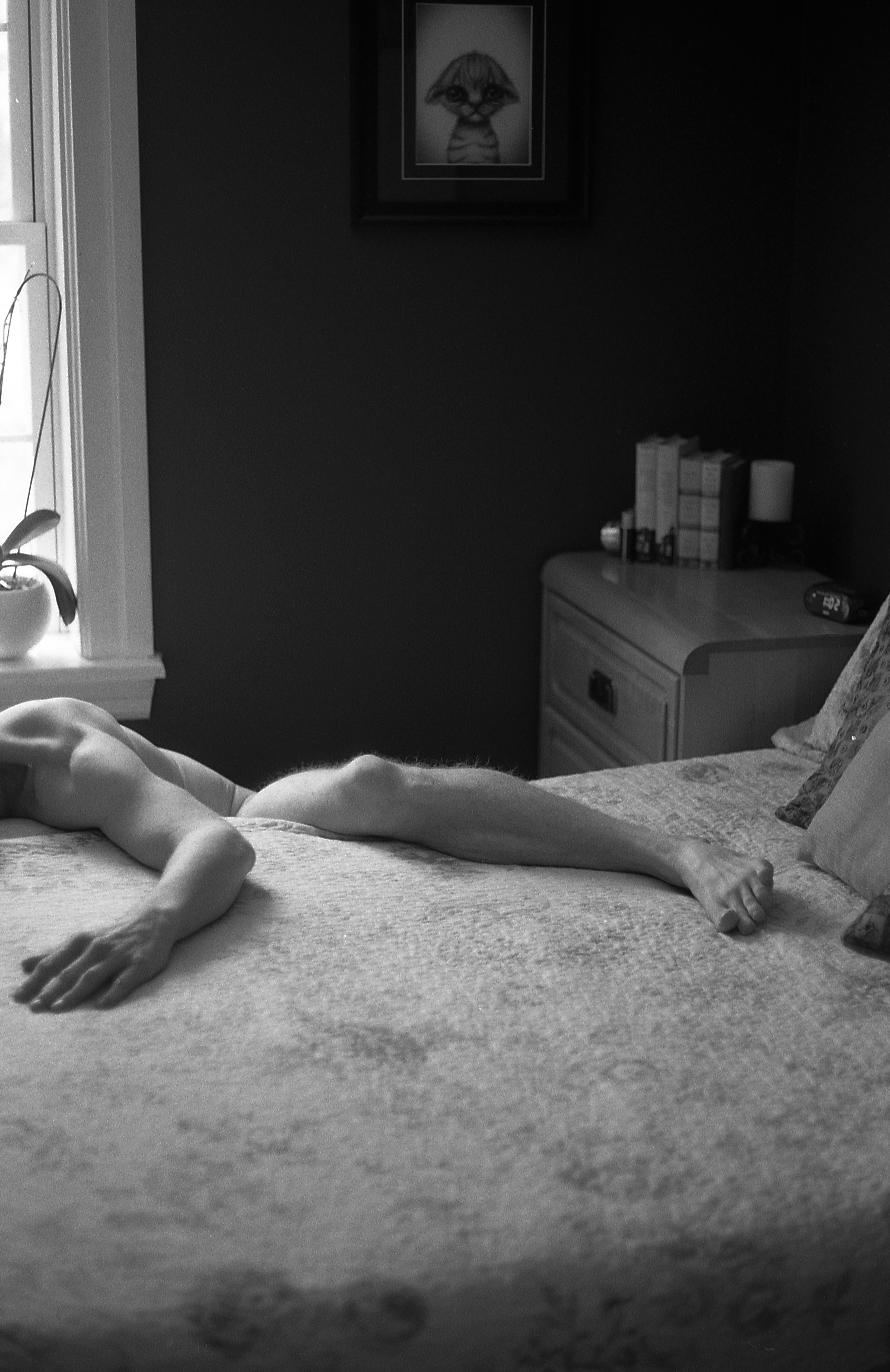 The focus is intentional here. I wanted my expression to still be reconizible while not allowing you to become distracted by other aspects of my face. The soft focus also forces the viewer to continue to look for detail, to look for answers. 
​​​​​​​
Part of the vulnerability has to also come from my developing the photographs. I was careful not to put the same care as I tend to in my other work, otherwise I may bring more distraction to my emotional state. I rushed the chemicals, I was hard & inconsistent with the agitation & I let large dust particles remain on the negatives. They looked rough so there was minimal distraction of false emotions that might make the photos look 'moodier' or 'cooler' or lead the viewer somewhere else. 
In the photograph on the right, I decided to lean on the doorway, it was uncomfortable as I put my body in a slightly awkward position. I felt my shirt ride up & the subtle change in temperature make me feel a little awkward, plus an uneven shirt with little skin exposure can be awkward in a photo if done incorrectly. It was in this moment I wanted to cover my genitals. 
 If it hadn't been for this intense, incredibly vulnerable exercise for myself, I would not have the tools to bring your portrait to life. 
There is a story behind these photographs, just like yours, I am working on my wording to protect some privacy issues but I am excited to share my story & these photographs to discuss our journeys in more personal detail before I finish writing my words. 
______________________________________________________________________________
My goal with my portraits is to capture honesty & vulnerability  & often when seeing that, it can change people.
I would like to offer you my overall perspective of my work, that perhaps you are now tuning into, yes the art lies in my portraits, but my art my friend also lies in the  experience & your changed life.
To be bold, we are all part of the art. You are by the transformation these photos have initiated. I am for photographing them. The viewer is also part of this art because every viewer so far has been impacted beyond seeing a 'nice picture' they see a portrait in the old fashion sense. 
Anyone that has the courage to sit in my chair will also become a work of art & I hope no matter what, you feel, being a work of art is just amazing. 
If your life has changed - & by default,- looking at the photos is technically enough to change your life, than my work has been a success. I only hope that the change you experience is positive even if it turns out to be personally hard for you. I don't wish for the change my work brings to be hard or to cause pain but I accept that people's journey are their own & that may include hardship & pain on their own terms.
If you would like to sit & video chat to discuss in more detail it would be just you & I. I would be in my studio with my headset on for discussion. We can drink, smoke & just talk about the importance of what is transforming in us. We have discussed other projects that could perhaps come of this type of discussion so let's keep that in the back of our minds too as we complete this project for you. 
I am absolutely open to you adding words. I was waiting for you to decide how you wanted to respond & even how you wanted to add your own voice, if at all. If not, I think the photos are powerful enough to stand on their own, like a poem, open for interpretation. But I do want to chat with you face-to-face first about those words. 
When you are ready, you tell me & I will send out an invitation to video chat.